Bullet Holes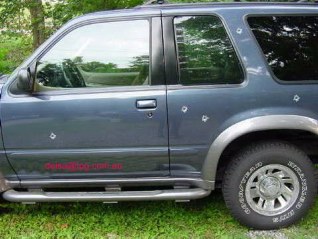 BULLET HOLE STICKERS - SO REAL IT'S SCARY ......
You will totally shock your friends!
Fake Bullet Holes.... "Zowie"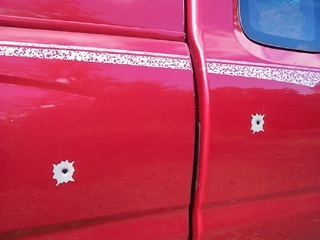 EACH sheet has 6 bullet holes on it.
These Bullet Holes look so real they scare people!
Made of tough vinyl and a light adhesive that peels off just as easy as it went on. Resuable. All-weather and washable. Will not damage your paint or finish.
If you're standing further than a foot or 2 away from my Toyota, it's impossibleto tell that these are not real. Everyone who sees my truck wants to walk up and poke their finger into what they believe to be a REAL bullet hole
. There are six bullet holes to a sheet. Each one has a different splatter pattern. All are shaded to look as real as possible. Whatever you use them for, people will never forget them.
A couple of my friends and I used them when we went hunting with our boss. We all left camp, and I circled back and stuck 6 on his brand new UTE. When we returned, the poor guy cried like a baby while we tried to keep from laughing. When he finally realized that the bullet holes weren't real, we were lucky we didn't get fired! So be careful ...
One guy stuck a bullet hole on his motorcycle helmet and laid in the grass waiting for his wife to come home from work. It took him two hours to calm her down after she saw him. This is why I say "be careful!" You will be amazed at how real these look!
So real looking they are scary! So real... my friends try to rub the holes! 6 vinyl, easy peel and stick, fake bullet holes to a sheet Easily removes from slick surfaces like cars, trucks, boats, motorcycles, airplanes, hard hats, tool boxes, machinery, forklifts, you get the idea.
Let your imagination run wild! Play a trick on your friend(s)! Great gift... easy to mail! Put in greeting cards! Stocking Stuffers! NOT AVAILABLE IN STORES !!!Get yours NOW!!!!
$A10.00 per sheet post paid Australia Wide.
ORDER USING CREDIT CARD. SECURE SERVER.
POST FREE WORLD WIDE
Send cash (registered) or INTERNATIONAL MONEY ORDER.
NO CHECKS/CHEQUES ACCEPTED.
Ozbiz Marketing Box 1394 GEELONG VIC 3220 AUSTRALIA
All international orders shipped airmail. AUSTRALIANS: Australian Money Order OK!