Save on FUEL!
We found some of these so called wonder products. They were sold several years ago by "well-known" personalities. Do they work....science says no. And so do most people :-) But you may like to get one of the few remaining ones to put on your car to dazzle your mechanic, or you just may have $20 your don't need.
The original advert is below.
This really does work! I've had one on the car for months and I am saving MONEY!

WHY PAY FULL PRICE FOR FUEL??
A small device that increases your fuel mileage (sounds better than kilometerage) FOR LIFE and snaps easily over your fuel line, no tools needed.
FuelMax customers report 3-6 extra kms per 4 litres on autos.
In addition to better mileage with FuelMax you will also enjoy smoother running engines and quicker starts.
INCREASES MILEAGE UP TO 20%
BOOST ENGINE PERFORMANCE
EXTENDS ENGINE LIFE
DRAMATICALLY REDUCES POLLUTION
DOES NOT AFFECT NEW CAR WARRANTY
Works on petrol and diesel engines
How fuel max works:

The fuel max creates a field of influence that allows the passing of fuel to brun more quickly and efficiently
What does it cost?
Just $99.00 shipped express post aussie wide. (This was the original price)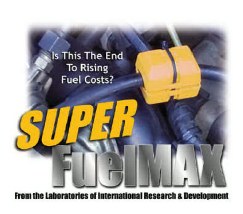 Also, there is the SuperMax, designed for vehicles with fuel lines between 16 mm and 25 mm.
Depending which one we pull out of the box, you will get the standard or super version for just $20.00. Who knows, you may save petrol.