How To Order
ORDERS ACCEPTED FROM AND ONLY SENT TO AUSTRALIAN ADDRESSES!
Lots of order options:
On each page is a link to our credit card company: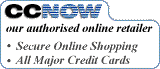 On going to their site, note that prices are in $US equivalents to the $A prices on my site. We keep up with the exchange rate! All orders shipped by me in GEELONG.




Or send money order. Sorry we DO NOT accept cheques.


You can mail your order and include your credit card details: Cardholder name, Card Number and Expiry Date. I accept Visa, Mastercard and Bankcard.

If sending cash, I suggest your send it REGISTERED mail.

Wrap it in newspaper or red paper...it can't be seen that way. But obviously I cannot accept responsibility for cash sent in the mail.

Otherwise, just ask the post office for a money order...much more secure!




Make your payments out to: Ozbiz Marketing

and post them to:

PO Box 1394

GEELONG VIC 3220




You may also have an E-GOLD account, if you do, just deposit to account number 132475 and email the details to me.

If you don't have E-GOLD it is easy to open an account:

Your order goes out same or next day.
If you include your email address, I'll confirm receipt of your order and send you the express post satchel number.